Roll Compactor Machine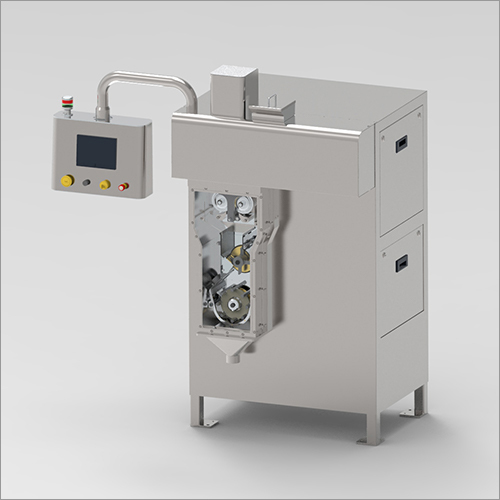 Roll Compactor Machine
Price And Quantity
Unit/Units

75000 -200000 INR
Product Specifications
Stainless steel

Automatic
Product Description
Roll Compactor Machine is used to force fine powders between two counter rotating rolls and presses the raw materials into a solid compact (flakes, sheets, strips). Roll compacter is also called dry granulators. Our offered Roll Compactor Machine goes through varied quality checks before the final dispatch from our unit.
PRASH Roller Compactors are capable to address the growing needs of the Pharmaceutical industry for the dry granulation solutions and reducing the cost per kg. It is carefully designed to meet all requirements of manufacturing standards and also to meet customer requirements in terms of output quality and quantity. They are designed to address almost every application of compaction in the pharmaceutical industry. With the help of various profile of rollers as change parts, it is possible to address wider range of materials and applications. Same technology models available right from Research scale to manufacturing scale ensuring the scalability. Being compact in design requires very small floor space.
SALIENT FEATURES:
High level of Automation to ensure repeatable and reproducible results.
Carefully designed effective sealing system
Air removal system to ensure no air is entrapped while product is moving towards the action zone.
Inbuilt Granulator ensures on line granulation of the product after compaction and thus avoid the separate equipment requirement
Designed keeping in mind the possibility to accommodate Isolators for high OEL demanding applications and environments
Continuous dry granulation by roller compaction is a well-established process in pharmaceutical, chemical and life science industry, targeted to increase the ow ability of a powder or powder blend to enable fast and homogeneous lling of a tablet press. Challenge is to produce tablets of constant weight and sufcient strength, while maintaining an even distribution of the Active Pharmaceutical Ingredients (API). This is achieved by roller compaction for a wide range of products and without need of additional ingredients such as binders, moisture or lubricants. Dry granulation by roller compaction is used to eliminate dust, increase the bulk density, reduce the storage volume, improve handling and manipulate the dissolution properties.
COMPACTION PROCESS IN THREE CONSECUTIVE STEPS :
Feeding: Using a suitable feed-in system, powder is routed through a horizontal screw feeding section. This provide the product precisely dosed, constantly and accurately to the rollers.
Compaction: Powder is compacted between two rollers to a homogenous solid ake, whose bulk density is signicantly higher. Air which is displaced during compaction, must be allowed to leave the process properly.
Granulation : Flakes produced through the compaction process, are granulated using a suitable single or multistage granulation system. Granules are created to the dened size
VERTICAL ROLLER ARRANGEMENTS: Vertical roller arrangement allows greater control of feed ow without the inuences of gravity. Moreover, side seal losses can be separated from the compacted material and can be added back to the raw material, if required. This leads to a minimization of ne material in the nished product without having any negative inuence on the consistency and composition of the batch.
COMBO-FEEDER : With the Optimisation of the feeding system known as Combo-Feeder, the air, which is displaced during the compaction process, is allowed to escape properly through a second chamber of the feed hopper without disruption of the feed, thus leading to a uniform feed of raw material into the rollers. Furthermore, the second chamber can be used to recycle undersize and oversize granule, which can be homogeneously added to the raw material, if required. In addition, the feeding unit can be assisted by using a vacuum system, which provides a minimal product layer on the inside of the screw housing. This greatly improves the processing of uidizing products with low bulk density.
TWO-STAGE GRANULATION IN DIAGONAL-DESIGN :
Rotor screen granulators are commonly used in the chemical, food and pharmaceutical industry for sizing of soft to medium hard products.
The Rotor-Fine-Granulators consists of a rotor with vertical rotor bars and screen mesh through which the granulate is pushed by the rotor. Incoming akes undergoes further pre-crushing, before it is compressed into the working zone. In this zone the particle size is reduced by pushing the material through the screen.
TECHNICAL SPECIFICATION :
| | | | | |
| --- | --- | --- | --- | --- |
| Model | PRA-RC150/70 | PRA-RC200/100 | PRA-RC250/150 | PRA-RC250/200 |
| Working Capacity (Output) | 15 To 80 Kg/hr* | 30 To 250 Kg/hr* | 60 To 300 Kg/hr* | 60 To 400 Kg/hr* |
| Contact Parts | S.S.316 | S.S.316 | S.S.316 | S.S.316 |
| Roll Size | 150 X 70 W | 200 X 100 W | 250 X 150 W | 250 X 200 W |
| Roll Speed | 3 To 29 Rpm | 6 To 25 Rpm | 6 To 22 Rpm | 6 To 20 Rpm |
| Feed Screw Speed (Horizontal)VFD | 60 Rpm | 60 Rpm | 60 Rpm | 60 Rpm |
| Feed Screw Speed (Vertical)VFD | 200 Rpm | 200 Rpm | 200 Rpm | 200 Rpm |
| Roll Max Force | 15 Tons | 15 Tons | 15 Tons | 15 Tons |
Working volume depends on material characteristic and product bulk density. Company reserves the right to modify technical specications.
Contact Us
Plot No. 415, GIDC, Odhav, Ahmedabad, Gujarat, 382415, India
Phone :09898004342